Grand CH. Firecloud's Serenity in Space, CAA
AKC# WS398190/01 Birthdate: Jan. 22,2012 OFA hips: SA-16552E28F-VPI (Excellent)
SA-CA955/23F/C-VPI-ECHO Cardiac Normal Cardiologist SA-PRA545/28F-VPI Normal/Clear SA-RDY350/28F-VPI Normal
CHIC #98619 Champion offspring: 1
Sire: GCH.Firecloud's It Had to Bijou
Dam: CH.Firecloud's Voyager in Space


Breeder: Cindy Hopkins, Bill Hardy & Tamiko Lynch

Owner: Cindy Hopkins, Bill Hardy, Tamiko Lynch
"Zoe" Grand CH.Firecloud's Serenity in Space, CAA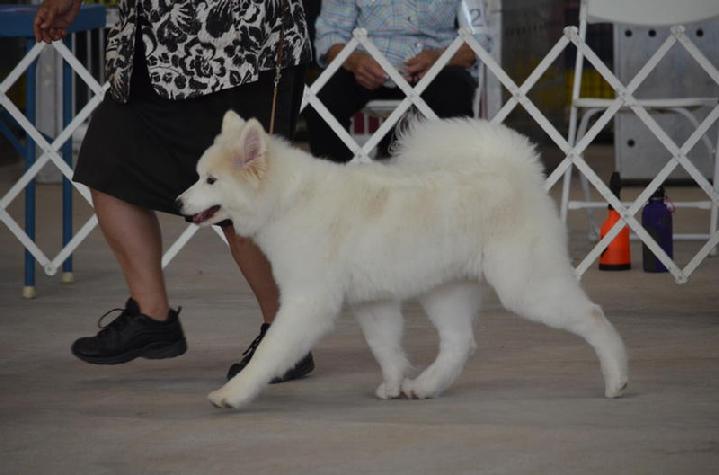 "Zoe" Firecloud's Serenity in Space as a baby, learning the ropes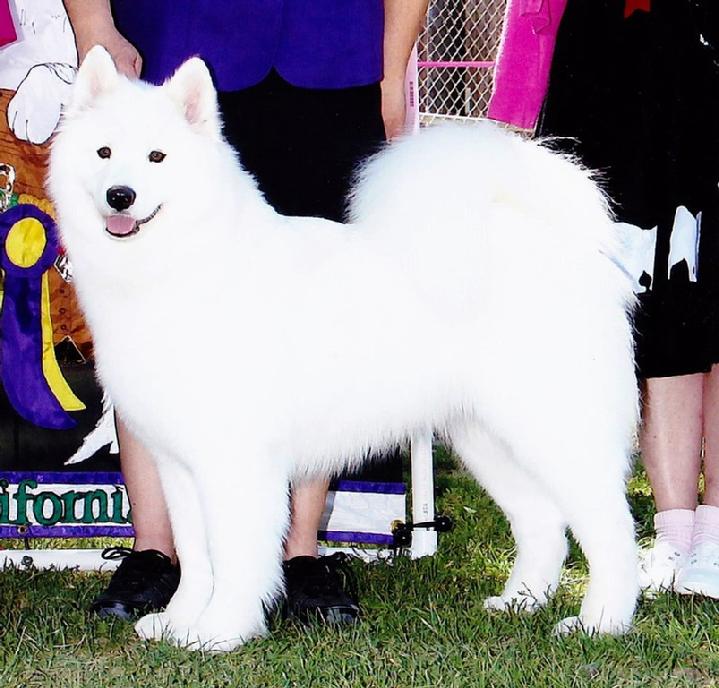 Zoe going Best in Sweeps at the Barbary Coast Samoyed Club specialty May 2013
Zoe is a wonderful puppy full of joy. She has a great time going to dog shows and has already earned points
toward her AKC championship. She attended the Samoyed Club of Washington specialty August 2012 and was Best Opposite Sex in puppy sweepstakes; then went on to win her 6-9 month puppy class and BEST PUPPY! She's a fun girl and we're having a ball with her.
Wow! Before we could barely blink, Zoe was a champion and a grand champion!!! She'd earned some points as a youngster, but starting in April 2013 she picked up a 3 point major at the Chief Solano KC show; then really took off in May 2013 starting with the Barbary Coast Samoyed Club specialty where she was Best Puppy in Sweeps and Reserve winners bitch; then on the last day of the circuit she was Winners Bitch for a 4 point major.
Then two weeks later at the Spokane shows she was Winners Bitch/Best of Winners for another 4 point major to finish her championship!
We moved her up to Best of Breed the following days and she was Best of Breed for 5 grand championship points; BOS x 3 for 14 grand championship points;
then down to California for the Nor Cal Specialty (Woofstock)
where Zoe was Select Bitch x 3 for 12 points, including the specialty on June 6, 2013.
And just that fast, she was a Grand Champion!
Zoe has also discovered a new love---COURSING! She saw how much fun her cousin, Jinx (CH.Firecloud's You Must Bee Joe Kin, CGC, RN, CAX) was having and gave it a try and she had a blast earning her first leg. So she has a CA and is working on getting her CAA. Never a dull moment with Zoe!
Zoe lure coursing
Pedigree Of CH.Firecloud's Serenity in Space, CAA
Parents

Grandparents

Great Grandparents

Great Great Grandparents

CH.Firecloud's It Had to Bijou



Am/Intl.CH.Firecloud's In Cyberspace, HIC

BISS CH.Saratoga's Speed of Sound, ROMX

CH.Wolf River's Drumlin, ROMC

CH.Elmfield's Saratoga Sage

Am/Intl.CH.Firecloud's In Seventh Heaven, CGC,HIC,ROMC

CH.Sunburst's Salute to Liberty

Sunburst's Iced Flash Flame

Firecloud's Blessed Bee, HIC (pointed)

CH.Wolf River's Chelestina Warrior

CH.Wolf River's Hawk

CH.Wolf River's Sand,ROMC

Am/Intl.CH.Firecloud's Angel in the Wings, HCT

BISS CH.Saratoga's Speed of Sound,ROMX

CH.Firecloud's In Seventh Heaven, ROMC

Am/Can.CH. Firecloud's Voyager In Space



CH.Firecloud's Kodiak Taku

Am/Intl Ch. Firecloud's In Cyberspace, HIC

BISS Ch.Saratoga's Speed of Sound, ROMX

Am/Intl.CH.Firecloud's In Seventh Heaven, CGC,HIC,ROMC

CH. Firecloud's Fit 'n With Snoden

Ch. Wolf River's Chelestina Warrior

Am/Intl.CH.Firecloud's in Seventh Heaven,CGC,HIC,ROMC

Rusalka's Emerald Wave

CH.Zvyezda Ivan Ivanovich

Zvyezda's Arcturus

Zvyezda's Grace Kelly

Firecloud's Amber Wave, HIC

CH.Firecloud's Crown of Amber, HCT

CH. Firecloud's Angel in the Wings, HCT