Grand CH.Firecloud's You Must Bee Joe Kin, CGC, RPP, RN,CAX, WS
AKC# WS31003703
Birthdate: Aug. 1, 2009
OFA (hips): SA-15741G24F "GOOD"
OFA (elbows): SA-EL1129F24 "NORMAL CERF:SA-6122
SA-CA691/34F/C-VPI ECHO CARDIAC Normal SA-PRA415/35F-VPI (Genotypically Normal)
SA-RDY218/34F-VPI RD/OSD Normal
CHIC# 82855
Champion Offspring: 1
Sire: CH. Vanderbilt's Joe Cool
Dam: CH.Firecloud's Miss Bee Heaven, ROMC


Breeders: Sharyn Young, Shannon Young and Tamiko Lynch

Owners: Desta Lair, Tamiko Lynch and Shannon Young
Jinx and Desta are having fun. Together, they've graduated from Puppy Kindergarten with flying colors and have started comformation training. We're looking forward to seeing them in the show ring in 2010, along with brother, Joey, and sister, Frankie.

In June, 2010, Jinx and Desta decided to try their hands/paws at earning a Canine Good Citizen title. Jinx passed like a champ and now proudly adds CGC to her name. Good job Jinx!

In October 2010 Jinx passed the requirements to become a Registered Pet Partner with the Delta Society.
In December 2010, she and Desta teamed up to participate in Rally. And in 3 consecutive shows she earned her Rally Novice title! Way to go, Jinx and Desta!


Jinx made Samoyed History!
She is the first Samoyed to earn the AKC Coursing Ability Title

So proud of this girl!!

Jinx has now rounded out her resume and has titles at both ends of her name!
She is now an AKC Champion.
She swept the points the first weekend in December 2011, going WB/BOS over specials for two 4 point majors to finish!
Way to go, Jinx!

She is now going to add mother to her list of accomplishments. She was bred to Kody, CH.Firecloud's Kodiak Taku, and their son,
Gunney, Firecloud's Top Kick Kin picked up his first major at the Santa Clara Valley KC show Feb. 16, 2014. He is now CH Firecloud's Top Kick Kin!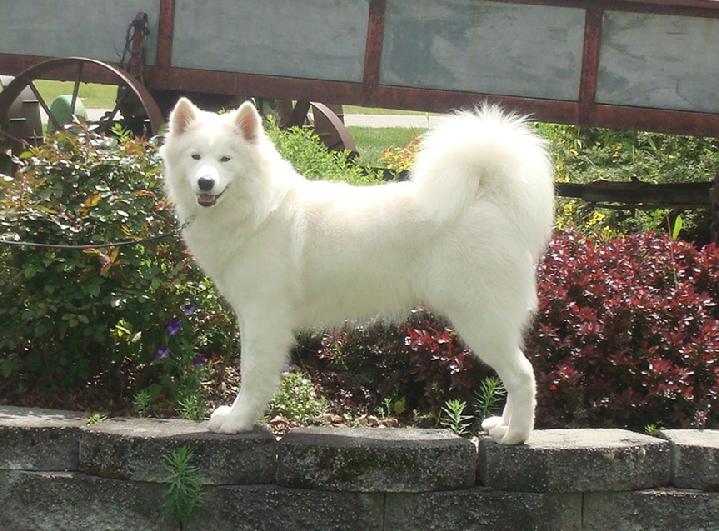 Jinx is growing up---photo taken May 2010
Pedigree Of Firecloud's You Must Bee Joe Kin
Parents




Grandparents




Great Grandparents




Great Great Grandparents



Am.Ch.Vanderbilt's Joe Cool



Multi BIS BISS Can.
Am.Ch.Vanderbilt's Playin' it Cool


Can.Am.Ch.Shebaska's Classic Charmer




Can.Ch.Risuko's Amorak at Katimivak




Ch.Shebaska's Astrid of Kyserbear



BIS BISS Can. Am.Ch.
Vanderbilt's Plays the Field


Can.Ch.Risuko's Amorak at Katimivak




Can.Ch.Wolf River's Vanderbilt Mesa, ROMC




Can. Ch.Vanderbilt's Paint Me Pretentious




BISS Can. Am.Ch.Vanderbilt's Warpaint, ROMC




Can.Am.Ch.Vanderbilt's True Lee, ROMC



Can. Ch.Vanderbilt's Live It Up

Can. Ch.Vanderbilt's Hell


or High Water



Can.Am.Ch.Vanderbilt's High Regard


Can.Am.Ch.Polar Image's Seraphim



Am.Ch. Firecloud's Miss Bee Heaven, ROMC




Am/Intl.CH.Firecloud's In Cyberspace, HIC




BISS Ch. Saratoga's Speed of Sound, ROMC




BISS Ch. Wolf River's Drumlin, ROMC




CH.Elmfield's Saratoga Sage




Am/Intl.CH. Firecloud's In Seventh Heaven, CGC,HIC,ROMC




Ch. Sunburst's Salute to Liberty




Sunburst's Iced Flash Flame, HIC




Firecloud's Blessed Bee (pointed)



Ch. Wolf River's Chelestina
Warrior


Ch. Wolf River's Hawk




Ch. Wolf River's Sand, ROMC




CH. Firecloud's Angel in the Wings, HCT




BISS Ch. Saratoga's Speed of Sound, ROMC




Am/Intl.CH. Firecloud's In Seventh Heaven, HIC,CGC,ROMC