Firecloud's Hunka Burnin' Luv (pointed)
AKC# WS24083002 Birthdate: Oct. 20, 2007 OFA: too young
Sire: CH. Vanderbilt's True Lee
Dam: Am/Intl.CH.Firecloud's Devil 'n the Deep Blu C

Breeder/owner: Tami Lynch & Jim Lynch
| | |
| --- | --- |
| Elvis at his first show going WD/BOW under Judge Judith Goodin | Elvis going BOB under Judge Robert Vandiver |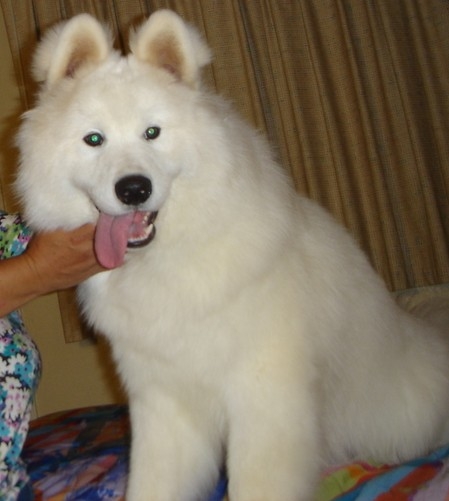 Elvis happy to be traveling to a dog show in Long Beach, California. He won WD/BOW that weekend.
Elvis…has…left…the…building…
I always pictured myself saying that in 13 or 14 years after Elvis had lived a long and happy life.
I pictured watching him growing up, finishing his championship, having fun as a special from time to time; pictured seeing his kids follow in his footsteps, displaying the same sweet, easy-going personality of their dad.
I pictured them in the ring making Elvis and me proud.
I pictured Elvis growing older, and if possible, sweeter.
I pictured all that, but the reality is…Elvis is gone, much too soon.
Those are just pictures of what could have been but never will be.
So now I will hold the memory of him in my heart…the memory of what he was: a beautiful boy with the sweetest soul I've ever known.
I lost Elvis before we could do all the things I knew he was capable of. He had an obstruction and it had been going on for a while apparently, though he gave no sign until one day he didn't want breakfast, and then refused dinner. I took him to the vet the next day and they did surgery but the obstruction had done too much damage to his small intestine (the obstruction was made up of cloth, plastic, bits of toys, hair and the thing that made it all really bad, string).
Prognosis was grim. He didn't make it to the morning.
So my baby boy was gone at only 16 months. He was such a sweet boy and
he should have had a long life ahead of him. If it wasn't for the other dogs I don't know what I would do.
Friends, family and dogs are the 3 things that will get me through this...